SIDE IMPACT - INTRUSION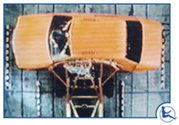 Every year in the U.S., about 8,000 fatalities and about 69,000 serious to critical injuries occur in side impacts. Severe head trauma and spinal cord injuries are directly related to the extent of penetration or intrusion into the occupant's "survival space". With the increasing population of larger SUVs in the traffic mix and the likelihood of being struck by one, the need for side impact protective measures is even more critical.
Millions of cars have short front and rear subframes , with a structural gap in the middle, right where the passengers are. Lack of a strong perimeter side structure reduces the ability of the struck vehicle to safely deflect away from the striking vehicle or pole. In side impact accidents, this structural weakness allows excessive inward intrusion into the occupants' "survival space", causing massive crushing injuries. Sometimes, the vehicle will literally split completely in half.
The issue of a structural gap in side protection was the main focus in Dawson versus Chrysler , in which police officer Dawson became a quadriplegic, and this became a landmark 1980 New Jersey appellate case in point ( 630 Federal 2nd 950 ). Byron Bloch testified as an auto safety expert in the trial, and used exemplar cutaway cars to illustrate the defective designs and safer alternatives.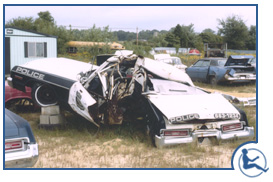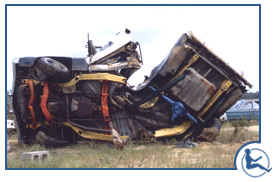 When GM introduced full-perimeter frames in 1960, they claimed that "These husky rails act as steel barriers at the sides of the seats to give you maximum protection all around."

Many cars, vans, pickups, and SUVs lack various safety features that would enhance side impact protection, including: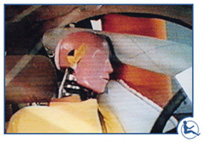 Vehicles without these safety features may have needlessly compromised side impact protection, which therefore result in severe to fatal head, chest, leg, or spinal injuries to the occupants in side-impact collision accidents.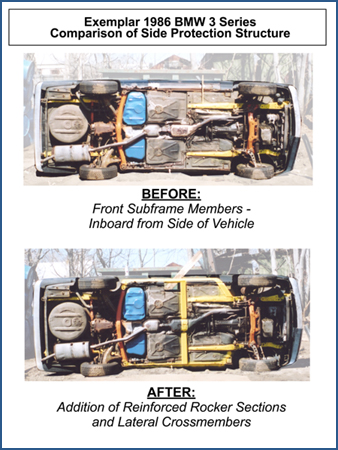 >> 2005 Jury Verdict in Side Impact - Intrusion Trial vs. BMW <<

The accident occurred when a 1986 BMW 326 two-door sedan slid across a wet, icy road in Freehold, New Jersey. The right side of the BMW impacted into a roadside telephone pole, causing extensive intrusion into the car's "survival space' and resulting in fatal head injuries to the driver Dr. Robert Rider.

Byron Bloch testified as an expert in Auto Safety Design and Crashworthiness in the June 2005 trial.  He showed the unsafe "structural gap" in the car's mid-body region, with only minimal subframe members that were too far inboard, and a lack of lateral cross-members. He also demonstrated a full-scale mockup of how a full-perimeter frame and other structural reinforcements would have been safer alternatives that would have reduced the extent of intrusion. The jury verdict was unanimous 6-to-0, and they awarded $6.9-Million to the Plaintiff.